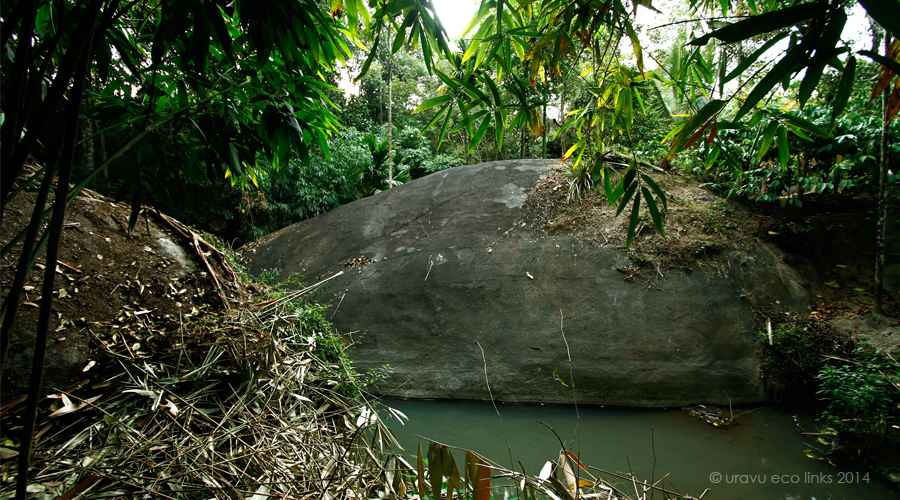 Our cottages are built of sustainable materials such as bamboo, wood, mud and ferro-cement. We try to reduce energy consumption to the minimum. Waste segregation at source and "RRR" (recycle, reuse, reduction) are our main criteria. Biodegradable waste is composted and some of our cooking teams use it for the production of biogas. Glass, plastic, aluminium and paper are segregated and sent to the nearest recycling station. This is part of a larger waste management strategy of the Uravu Bamboo Village project.
Drinking water for daily use is sourced from a local open well. Drinking water is always filtered using non-chemical water purification methods (Swiss Katadyn filter).
The rainwater is collected and harvested in order to be reused for watering the plants. The cottages all have a biomass water heating system for the hot water of the showers. Wastewater, both black and grey, will be treated using the advanced oxidation process.
Moreover, the villagers are encouraged to grow vegetables and produce meat products. Wherever possible, organic vegetables and local fruits are used.
Preservation of biodiversity and wildlife is important to us. In this respect the area is maintained as a bird- and butterfly-friendly space and our guests have the opportunity to plant bamboo, fruit trees and medicinal plants. The Uravu Bamboo Grove resort is located in a bamboo grove with a variety of more than 20 different bamboo species. They were planted by experts of the Uravu nursery, which has around 45 bamboo species. Since a recent activity with local children, the bamboos have name plates, which give the guests the opportunity to learn more about bamboo. Bamboo and other plants are regularly planted in the resort as well as in the village (e.g. annual planting activities with the local school during the World Environment Day) in order to support CO2 compensation.